EVOLVO is an organization, based in Milan, which coordinates projects funded by the European Union within the framework of the Erasmus+ Key Action 1 Programme.
Thanks to a solid corporate network built in years of rewarding collaboration with our partners, we are specialized in supporting vocational education and training (VET) learners and teachers who come to Milan to experience a practical and/or professional training abroad. We help them with the organization of all aspects of their stay: from accommodation to food, from local transportation passes to cultural visits, and, most importantly, we support them in finding the most suitable company at which they will spend their internship.

The "EVOLVO" Latin name was chosen because it very well reflects our goal to provide opportunity for development and advancement at the highest level to all those young people and adults who, having exceeded the language barriers, wish to progress as a European citizen both professionally and personally.
The management and workers of EVOLVO were chosen in a very careful, holistic way so that they could provide assistance according to their best knowledge and competences during each and every step of the training for all those who have chosen our services for their professional and personal development.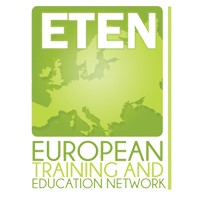 EVOLVO is part of a bigger network coordinated by ETEN (European Training and Education Network), an organization with several years of experience in drafting and implementing calls for tenders announced by the European Commission.
ETEN has more than 10 years of experience in coordinating educational programs in the EU and has presence in several European countries. The network has partner organizations in Budapest, Barcelona, Vienna and, last but not least, in Milan with EVOLVO.
Erasmus+ aims to modernise education, training and youth work across Europe. It is open to education, training, youth and sport organisations across all sectors of lifelong learning, including school education, further and higher education, adult education and the youth sector. It offers exciting opportunities for participants from all over the EU to then study, work, volunteer, teach and train abroad in Europe.
In the framework of Learning Mobility of Individuals, Key Action 1 offers a chance for VET Students and Staff to gain experience abroad.
This is all about providing opportunities for individuals to improve their skills, enhance their employability and gain cultural awareness. Under this Key Action, EVOLVO coordinates mobility projects to offer structured study, work experience, job shadowing, training and teaching opportunities to staff and learners.
For more information, please visit:
https://ec.europa.eu/programmes/erasmus-plus/opportunities/vet-learners-and-staff_en

INTERNSHIPS FOR STUDENTS – EVOLVO organizes internships for high school students with a duration of two weeks up to three months in high-quality companies, firms and organizations. Our mission is to value the skills and ambitions of each student in all the different professional fields so that they can get the best out of their training experience abroad.
PROFESSIONAL TRAINING FOR TEACHERS – EVOLVO organizes professional trainings and courses as well as job shadowing experiences for teachers, instructors and tutors of middle and high schools which are at the heart of mobility projects addresses to VET staff.
SEMINARS + PROFESSIONAL VISITS – EVOLVO organizes seminars and professional visits for both students and teachers to the discovery of small, medium and large companies and organizations abroad: an opportunity to observe, learn, experience, compare the different working and teaching methods as well as meet and exchange views with the local staff.
LANGUAGE COURSES – EVOLVO organizes language courses held by native teachers specialized in teaching Italian to foreigners. The teaching method is based primarily on the conversation.
Not only do we pay a special attention to select those workplaces which represent creativity, technology and methodology at their highest quality in Italy, but we also strive to provide the best conditions of travel, accommodation and meal.
And remember! This time spent in Italy is not only about work and training, because it is also an unforgettable adventure and cultural experience.
MOBILITY
Our internships usually last from 2 weeks up to 3 months. Before, during and after your Italian experience, we will stay at your side and to do that in the best way, we offer a lot of services, not only in Milan:
Preparation day in the school before leaving when our colleagues prepare the group for the mobility
Organizing the travel of the groups (by bus or by  flight, it can vary)
Full programme documentation and purchase of international insurance by EU
During your stay in Milan, we ensure a good quality of accommodation and 3 meals (breakfast, lunch and dinner are included). Plus every weekend we organize cultural programs and city tours for the entire group!
Opportunity to complete your internship with well-known organizations and companies from every possible professional field
A friendly and helpful staff will help you with your everyday logistics, showing you around, introducing you to your workplace on your first day
TRANSFER FROM AND TO AIRPORT
Evolvo will stay with you from the start until the end of your Italian experience. We organize the transfer of the participants from the airport to the accommodation and the other way round.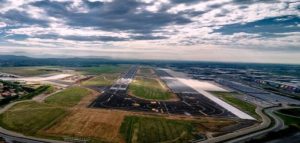 LOCAL TRANSPORTS
Evolvo provides participants with a weekly or monthly pass for public transport. The pass allows you to use all public transport in Milan such as trams, metro lines, buses and some trains.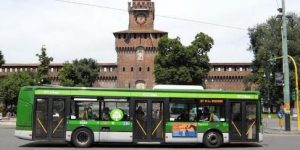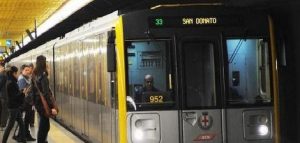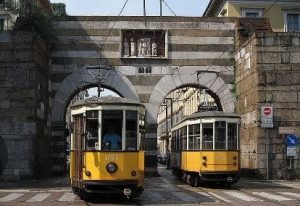 ACCOMODATION
Participants will stay in apartments, hotels or hostels. The accommodations, carefully selected by EVOLVO, are comfortable and equipped with all kinds of facilities. Each accommodation and the rooming will be communicated to the participants before their arrival in Italy.
 MEALS
Evolvo ensures three full meals: an Italian breakfast, lunch and dinner.
Furthermore, once a week you will have the opportunity to eat the most famous Italian food of all: PIZZA!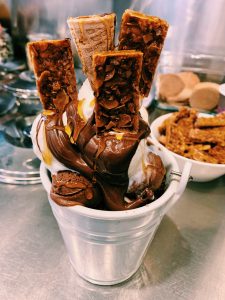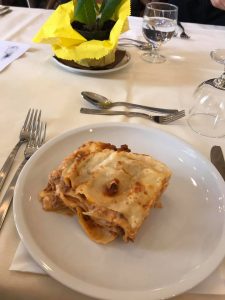 CULTURAL VISITS 
During your stay in Italy the Evolvo staff will organize some cultural activities during the weekend with the aim to discover all the beauties hidden around the city. You will have the chance to visit the Sforza Castle, the Leonardo Da Vinci's museum and some other sites.
Furthermore, the Evolvo staff could help you organize trips in Lombardy and to the nearest artistic cities such as Verona, Torino, Bologna and Firenze.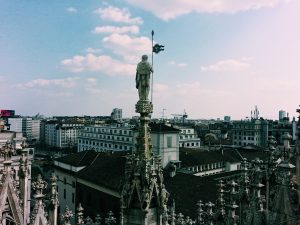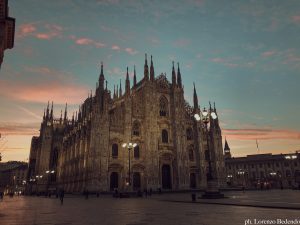 MONITORING
During the course of the project, each student is supported by two tutors: the EVOLVO group tutor and a professional mentor appointed within the host company! We ensure the constant monitoring of all the activities carried out and, in case of problems, we will be by your side to solve them.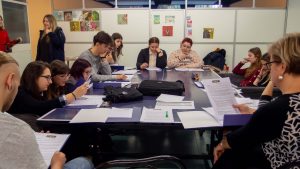 CERTIFICATION
Evolvo issues the Europass certificate to the achievement of the training experience. Did you know that in Europe this is the most accepted form to attest a professional experience abroad?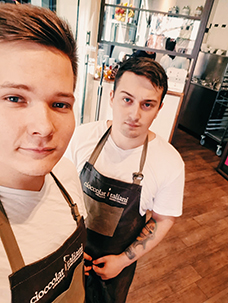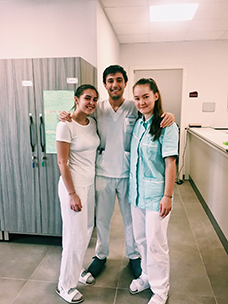 Tourism
Tourism, like in many other Italian regions, is one of the primary sources of income for Lombardy. Thanks to the presence of its diverse natural beauties (lakes, mountains) and cities of art, Lombardy manages to attract a significant number of tourists every year. Milan, in particular, is confirmed to be one of the most popular touristic destinations in Italy for both national and foreign visitors who come to this metropoly on pleasure as well as business trips.
Our partners in the field of tourism run from high-standard hotels and restaurants, frequented by tourists and businessmen, to travel agencies.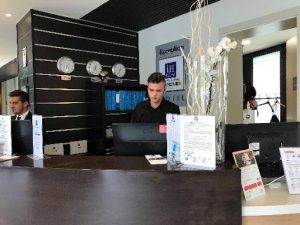 Industrial sector
In the industrial sector, Lombardy is the most important region in Italy. The scenery here is mostly made up of small and medium enterprises, but larger industrial groups are present as well. Heavy industry lives next to highly specialized mechanical firms to supply many different economic sectors: from transport to biotechnology, from fashion to robotics.
EVOLVO has developed long lasting partnerships with firms in and around Milan which are ready to welcome students in the sectors of mechatronics, electronics, industrial chemistry, welding, joinery, carpentery and so on.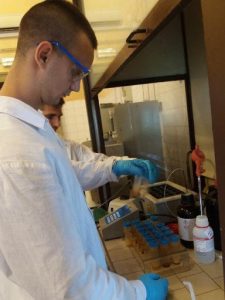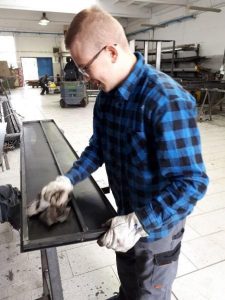 Fashion, arts and crafts
Handmade fabrics, ceramics and forged iron are typical artisanal products from Lombardy. Artisanal shops still represent a very remarkable segment of the Italian economic sector and 'Made in Italy' products remain the most wanted all over the world. Speaking about fashion, Milan is wordly known as the capital of fashion! If you are lucky enough, you might come to Milan during the fashion week and be overwhelmed by its glamour. Some of the greatest fashion artists and designers still have their ateliers and workshops in the city.
Our partners in this sector include jewelleries, tailoring workshops, costume workshops, where our students interested in becoming tailors, fashion and jewellery designers can learn the secrets of this Italian art, but also boutiques and vintage shops where prospective shop assistants can gain experience.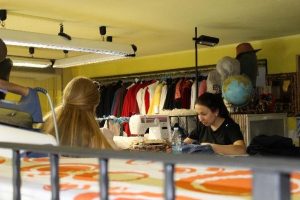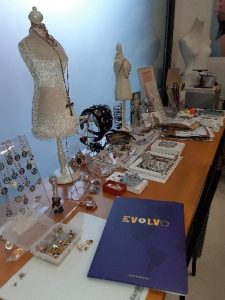 Gastronomy
When thinking about Italy, you cannot but dream to eat its famous culinary products right on the Italian soil: pasta, pizza and gelato, of course, but we also suggest you taste the most popular dishes originally from Milan, which are the risotto with saffron and the Milanese steak. In Milan there are a lot of chefs who opened there their Michelin starred restaurants and bistrots. As a huge cosmopolitan metropolis, Milan is also a melting pot of numerous cultures who brough their culinary traditions with them as well, so that you will have the chance to taste food from all over the world.
Our partners include bars, restaurants, hotel restaurants and kitchens where the students can be employed as waiters and waitresses, as well as cooks, bakers and pastry chefs.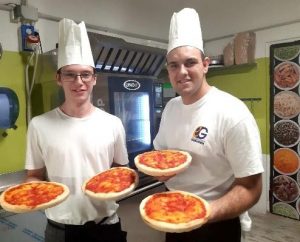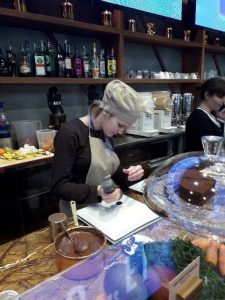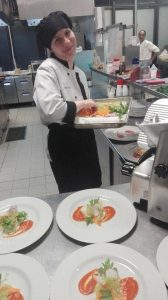 IT
The entire television and telephone sectors, radio and Internet transmissions require a very effective interactive multimedia system. Milan and the Lombardy region entirely are the most wired with fiber optics in whole Italy. Several professional studios supply and support the robotics industry, the logistics, as well as airports, railways, hospitals, research centers, the architecture and design sector. They all need advanced hardware and software, high performance computers as well as advanced 3D animation.
EVOLVO has partnerships with small and medium sized IT companies where students can spend a fruitious internship.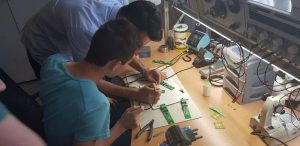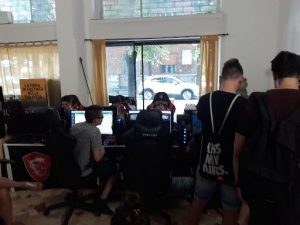 Farming, Agriculture and Animal Care
The calm Po river unfolds in the Po plain, helping irrigate this land rich of food. Lombardy is not by accident considered like the barn of Italy. Rice is particularly recognized like a traditional Lombardy product. But also wine is a strong pride with all of its different qualities produced in the region of Franciacorta. Italian fruit and vegetables are exported in large quantities; breeding and farming are remarkable economic activities in Lombardy, too.
EVOLVO has partners among farms, agricultural cooperatives where students can work and, in some cases, also be accommodated to live a 360° experience being surrounded by nature. Some of these companies also welcome students who want to become veterinaries to take care of their animals, but we also collaborate with vet studios.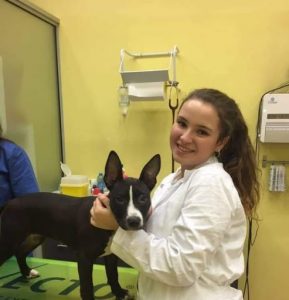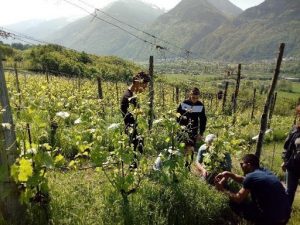 Cars
Italian car brands are famous all over the world and our car engineers and mechanics are considered as some of the best. Many types of trucks, buses, and special trucks are also produced in Lombardy. All of them are in the name of the highest quality.
Our partnerships run from small workshops frequented by local customers to bigger firms where young car and agricultural mechanics can be employed.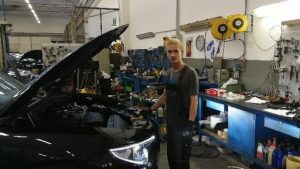 Administration, Commerce and Logistics
Lombardy has the densest road and railway network in Italy. Nowadays three airports are serving Lombardy, and they are all around Milan. Interior logistics with high computerization allows for all products to travel fast, safely and punctually by any means of transport. Huge stores swallow tons of various goods every day. Managing and administering all these activities require a considerable expertise.
EVOLVO has partners in the different sectors of logistics and trade for our students to gain experience in the sectors of back-office work, administration, as well as in the warehouse.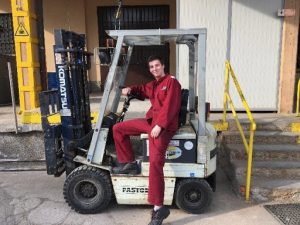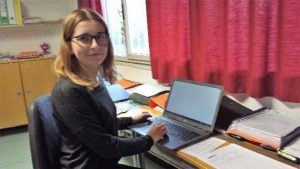 Healthcare
Lombardy is one of the most highly populated regions in Italy and its healthcare system counts some of the best structures in the whole country. Taking care of the upbringing of kids as well as of the health status of the elderlies are, of course, to be considered as a mission for life.
Our partnerships run from retirement houses, to residential care houses and kindergartens for prospective nurses and caretakers.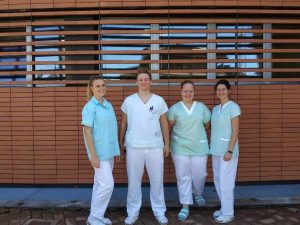 Beauty and Hairdressing
Not only for how they dress, but Italians also set an example for how their total look is. From hair to nails, Italian women and men always set the trends. As the capital of fashion and glamour in general, Milan is full of trendsetters, so that beauty and hair saloons here offer high standard services for everyone to look at their best.
Many are the beauty saloons and hairdresserers we partner with for the students to spend an unforgettable internship at, some of which are in the heart of the city centre of Milan.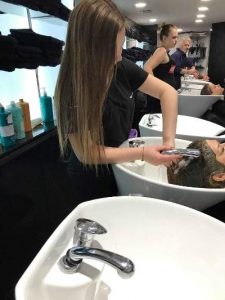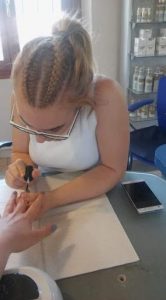 Performance Art
Teatro La Scala is one the most famous attractions in Italy as one of, if not the most important Opera and Ballet House in our country and in whole Europe. Italy can boast to have some very famous opera singers and dancers travelling and working all over the globe.
EVOLVO partners with highly professionalized music and dance schools.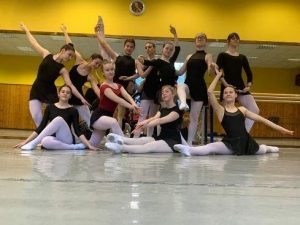 Milan
Milan is a modern city with old origins, which goes back high in age. Its ancient name is Mediolanum, a Latin word that means 'in the centre of the plain', referred to its strategical position in the middle of Padan Plain. The city served as the capital of the Western Roman Empire, the Duchy of Milan and the Kingdom of Lombardy–Venetia. Milan has got a peculiarity: all of the region's rivers lead to the city! This project was designed by the all-time genius, Leonardo da Vinci, and which original sluicing is still in function. Leonardo did his service at the Sforza family as an architect, fortification designer and military technician, which contributed to the city's continuous development (EVOLVO!). Even today, Milan is being counted as Italian "Capital of Virtue and Moral". The city has been recognized as one of the world's fashion capital, thanks to several international events and fairs, including Milan Fashion Week and the Milan Furniture Fair, which are currently among the world's biggest in terms of revenue, visitors and growth. It hosted the Universal Exposition in 1906 and 2015. The city hosts numerous cultural institutions, academies and universities, with 11% of the national total enrolled students. Milan is the destination of 8 million overseas visitors every year, attracted by its museums and art galleries that include some of the most important collections in the world, including major works by Leonardo da Vinci.
Lombardiy: in the North of Italy but in the heart of Europe!
Situated in the North of Italy, between the mountain range of the Alps and the flow of the Po river, Lombardy is in a strategic position and it represents a bridge to the Mediterranean. With its almost 10 million inhabitants, it can be compared to a little nation. For population, it is the 3rd most populated region in Europe after Île-de-France and Baden-Württemberg. Lombardy produces 20.6% of the national added value: first place in Italy and fourth place in Europe. Thanks to its fortunate geographical setting and its dynamic business system, it is also the first Italian region both for its volume and value of commercial exchange with foreign markets. is the heart of Italian industry. it is a highly industrialized region, which is also the reason of choosing it as the central base of our organization. However, Lombardy is also a rich agricultural territory as well since Po plain is the most suitable territory for supplying Italy's food industry. Milan is the capital of Lombardy. It is a dynamic and competitive reality that, thanks to its geographic position and the resourcefulness of its inhabitants, is a privileged actor in the international market.
7 things you can't miss in Milan
The Dome
The Milan Cathedral ("Duomo di Milano" in Italian) is the symbol of the city and it's located in Piazza del Duomo.
Started in 1386, the construction of Milan Cathedral took nearly 500 years. It was finished under the order of Napoleon Bonaparte who absolutely wanted to be crowned as king of Italy there.
From the outside, you can admire its facade entirely made of perfectly carved stones. The 2.000 white marble statues and 136 arrows makes the whole thing super impressive!
The interior is also worth a visit, with its 5 sumptuous naves and 52 columns, each representing a week of the year. You can also admire sarcophagi and tombs of several archbishops, as well as a crucifix made by the master Leonardo Da Vinci himself!
But the highlight of the visit is the possibility to go on the terrace of the Cathedral. From up there, the view of Milan is breathtaking!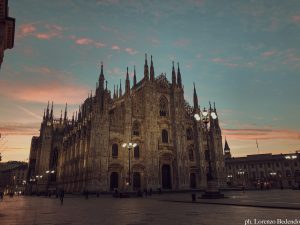 Galleria Vittorio Emanuele II
Just outside the cathedral, on the Piazza del Duomo, you can visit the Galleria Vittorio Emanuele II, another top attraction in Milan.
The place is very photogenic and luminous, with its magnificent arcades and superb dome made of glass and iron. Nicknamed "Il salotto", the Galleria is considered to be one of the most beautiful in Europe, so don't miss it!
Inside, you can find some of the most famous fashion designers stores as well as many high-end restaurants!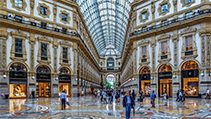 Teatro La Scala
Leaving from the Piazza del Duomo, along the Galleria Vittorio Emanuele, you will arrive directly on Piazza della Scala, where the famous Milan Opera house is located.
Masterpieces of Italian opera have been created here, such as "Norma" by Vincenzo Bellini or "Otello" by Verdi. Also, one of the greatest classical singers of all time, Maria Callas, has performed in La Scala.
the interior it's world famous for being sumptuous. The exterior facade however, is quite simple.
If you wish to attend a concert, an opera or ballet performance at La Scala, you can buy your tickets directly on the official website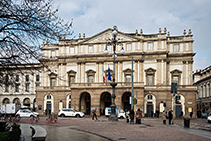 Sforza Castle
This very impressive castle is located in the center of the city.
It was built in 1358 by the famous Visconti family to protect and defend the city against its enemy, the Duchy of Venice. Destroyed and rebuilt multiple times, it's famous for having hosted Leonardo DaVinci workshops during the Renaissance period.
Today, the castle hosts several museums. The vast inner courtyard of the castle is open to the public for free. It often hosts cultural events.
If you walk across Sforza Castle, you will arrive directly in Parco Sempione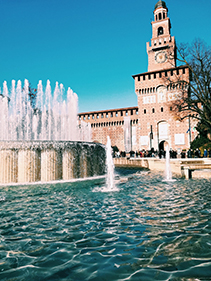 Parco Sempione
Just behind the Sforza Castle is the green lung of the city. Parco Sempione is the largest
public park in Milan and is a perfect place to relax.
Inside there are some buildings worth seeing:
– The Civic Aquarium of Milan, with its beautiful architecture.
– The Triennale, which highlights the Italian arts and architecture
– The Civic Arena, a multi-purpose stadium dating back to 1807, where sporting events are
held
– The Arch of Peace, the triumphal arch of Milan, built to celebrate the peace of Vienna in
1815.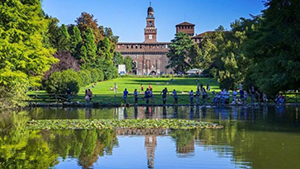 Santa Maria delle Grazie church
Without a doubt it's one the most famous church in Milan, Santa Maria delle Grazie is known for housing one of the most beautiful masterpieces ever made, the painting of the Last Supper by Leonardo da Vinci.
Leonardo da Vinci painted the Last Supper in the refectory of the monastery, now called "Cenacolo" in reference to the masterpiece. Thousands of tourists come every year to admire this painting representing the last meal of Jesus Christ.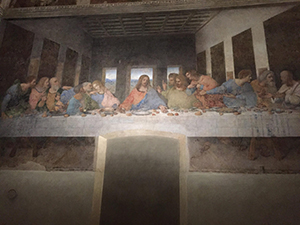 Santa Maria delle Grazie church
Without a doubt it's one the most famous church in Milan, Santa Maria delle Grazie is known for housing one of the most beautiful masterpieces ever made, the painting of the Last Supper by Leonardo da Vinci.
Leonardo da Vinci painted the Last Supper in the refectory of the monastery, now called "Cenacolo" in reference to the masterpiece. Thousands of tourists come every year to admire this painting representing the last meal of Jesus Christ.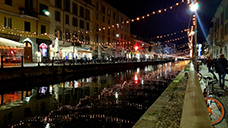 3 Things to Do Around Milan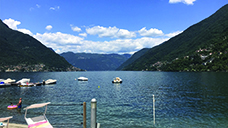 Lake Como, Lake Garda and Lake Maggiore
All located between 1h and 1h30 from Milan, Lake Como, Lake Maggiore and Lake Garda are a good idea for a day trip, if you want to get away from the city.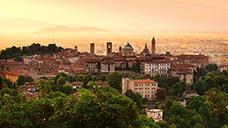 Bergamo
At 60 kilometers from Milan, you can visit the beautiful fortified city of Bergamo. Like the lakes, it's perfect for a day trip! A must see for the upper side of the town, a very nice medieval city.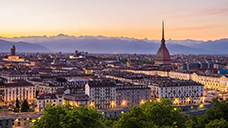 Turin
You should really seize the opportunity to visit Turin during your trip in Italy. The city is only at 1 hour by express train from Milan!
OPERATIONAL HEADQUARTERS:
20092 -Via Pelizza da Volpedo,90 Cinisello Balsamo (Milano) Italy
Tel.:+39 02 36598097 
www.evolvo.org